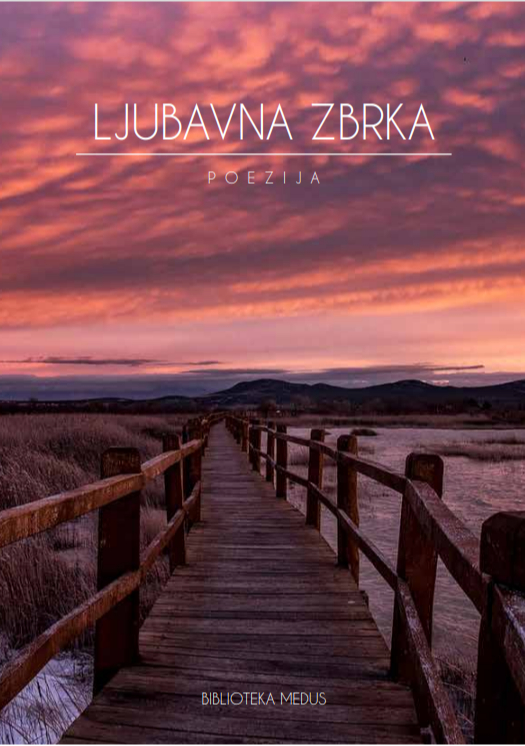 Naslov:
Ljubavna zbrka
Autori stihova:
Senka Slivar
Aleksandar Čubrilo
Dejan Kamenar
Dominik Matešić
Tatjana Kadoić Grmuša
Tomislav Vibovec
Ivana Vončina Toplek
Nikolina Ljubičić Marković
Željko Grmuša
Autor naslovnice:
Vinko Pešić
Urednica:
Tatjana Kadoić Grmuša
Prijelom i grafičko oblikovanje knjižnog bloka:
Goran Žunić
Tisak:
Studio Moderna d.o.o. Zagreb
Nakladnik:
MEDUS BIRO d.o.o. Zagreb – Biblioteka Medus
OPIS:
Format: 15×21 cm
ISBN:978-953-7227-35-7
Broj stranica: 82
Uvez: meki
Godina izdanja: 2021.
Nerijetko smo, putujući poslovno i privatno, upoznavali i otkrivali "male originale". Samozatajne kuhare, predavače, liječnike, službenike, policijske inspektore, dizajnere, terapeute,… koji bi nam skromno povjerili svoj mali hobi – pisanje poezije. 
Tijekom posljednjih 9 godina posvjedočili smo i svojevrsnom boom-u poetskih događanja na domaćoj kulturnoj sceni i znali se oduševiti predivnim stihovima za koje smo imali priliku upoznati i autore istih. No, postoje vrijedni autori stihova koji  još nisu doprli do publike. 
A trebali su! 
Javio se i onaj šturi osjećaj: pa svi smo mi u nekom trenutku života osjetili to snažno nadahnuće i negdje zapisali/zapisivali riječi za emocije koje su nas, gotovo nadnaravno, čvrsto u trenutku prožele, milovale, snažile, izludile ili ranile. Nekima je to bila samo epizoda, nekima su se stihovi redali prema potrebama, a nekima to je postao sastavni dio života, intime ili pak zanat. 
Ova zb(i)rka poezije nalikuje mladoj na vjenčanju: ima nešto novo, nešto staro, nešto plavo i nešto posuđeno. 
Pred vama je troje već "ukoričenih" pjesnika i šestero koji se prvi put predstavljaju i u tiskanom izdanju i široj čitateljskoj publici. 
No, svima je zajednička ljubav. 
Ljubav je tema i u ljubavi smo s poezijom.
Ako poeziju promatramo kroz prvotnu i jednostavnu definiciju: Poezija (prema grčkom ποίησις, poiesis, ''stvaranje") – vjerujem da smo stvorili izuzetnu zbirku. 
Zbirku koja zaslužuje višekratno čitanje i prostor koji nudi lagani odmak od suhoparne stvarnosti. Naići ćete na impresije u proznoj i u formi rime, opisivanju ljubavi prema prijatelju, prirodi, pojavama, muškarca prema ženi i žene prema muškarcu… ma, uživat ćete, znam. 
No, osim konstruktivne, kritiku neću dopustiti. Ovo su autori koji su u svojim mlađahnim danima poželjeli: "Kad narastem, bit ću pjesnik!" 
Ako vam se stihovi svide, želje su nam se ispunile.
Ako pak ne, znači samo da smo još uvijek jako mladi. Još uvijek stasamo, sanjarimo, pišemo i predstavljamo svoju ranjivu stranu. 
Dajte nam šansu-dvije… koliko ih dajete i ljubavi.
I sretnite se s njom. 
Ovdje i sada. 
Tatjana Kadoić Grmuša, urednica